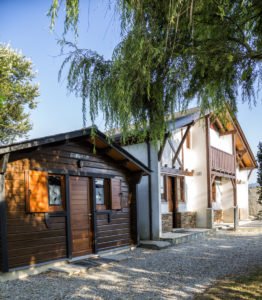 Designed and built by the painter Celso Dourado.
Architecture with Originality
Its original and beautiful architecture stands out, where wood, glass and stone are the main elements of its construction.
Rural environment on the beach in Lugo
Its location is characterized by being located in the core of the 8 km of beaches of Barreiros, with direct access to the coast, connected to each other by a huge path that ends at the famous beach of Las Catedrales. These beaches are unique in A Mariña to enjoy the mild climate of the Rías Altas de Galicia.
Fully wooded camping area
It has a fully wooded camping area and delimited by plant hedges, with access to services provided with free hot water.
All the services
It has a Bar-Cafeteria, a grocery store, a children's playground, a barbeque area, a baby bath, a washing machine, a dryer and also information on routes for a touristic and ethnographic knowledge of the region. Free WIFI.